Corns on the Foot
Soft Corns, Hard Corns and Seed Corns
Corns are an extremely common foot problem that people of all ages experience. While they affect women more often than men, they are fairly widespread. A corn is an accumulation of thickened, dead skin. They form on the toes or other areas of the foot due to some form of pressure, usually from shoes which are too tight. Corns often become tender and painful if not treated.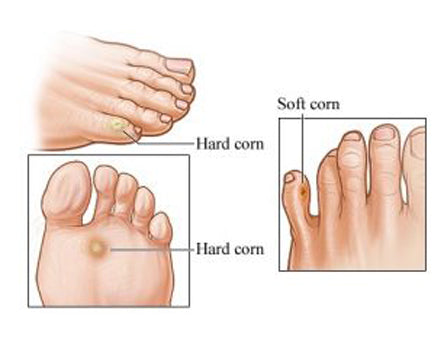 What are Corns?
A corn is a type of callus made of thickened layers of skin which form as a protective measure. The accumulated epidermis (skin) will develop at the pressure points. This is the body's natural way of trying to protect the underlying tissue or foot structure from excessive pressure. Corns are typically smaller than regular calluses and have a hard center surrounded by inflamed skin. Corns tend to develop on parts of your feet that do not bear weight, like the tops and sides of your toes, though they can also appear on weight bearing areas too (unlike normal calluses which always appear at friction points). Usually the pain worsens within shoes, and often the shoes themselves are the cause of the problem.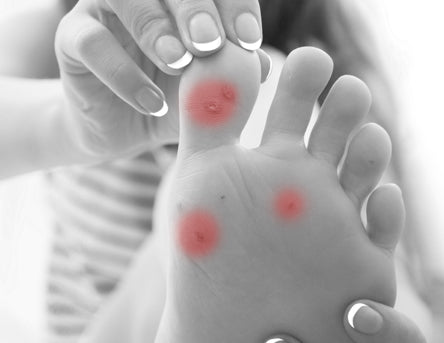 Hard Corns
Hard corns (aka heloma durum) are a formed as a hard area on your toe or foot. They are developed to protect the underlying tissue. These corns can become painful if the cause (such as shoe or an underlying bone) is not relieved. Most often these types of corns are found on the little toe and they are especially painful with direct pressure.
Soft Corns
Soft corns (aka heloma mole, interdigital corns, kissing corns) are hardened skin between the toes, usually deep in the toe web space. They are commonly found between the 4th and 5th toes. This type of corn is usually odorous and is also painful in tight shoes or with direct pressure.
Seed Corns
Seed corns are another form of hard corns that are generally found on the bottom of the foot.
What is the Difference Between Corns and Calluses?
Calluses can often be confused with corns, however they are not the same. While corns are a type of callus, not all calluses are corns. A callus is an area of skin that becomes toughened and thick due to pressure or friction. They can occur anywhere on your body where there is repeated pressure: your heels for instance, or your hands, elbows, or even knees. Calluses are often yellowish or pale in color. They can be much larger than corns and are often less sensitive to the touch compared to the surrounding skin. Unlike corns though, calluses are often painless and do not have a distinct hard center.

What Causes Corns?
The most common cause of corns is shoes that are too tight. Corns form in areas of excessive pressure, usually in areas where shoes rub against toes. They can also form when toes are squeezed together tightly within the shoes. Hard corns usually form on the tops or sides of the toes. Soft corns generally form in the moist area between the toes.
Another cause of corns can be a prominent underlying bone or the malposition of a digital joint. Corns form over these areas because of the there is abnormal pressure due to structure and the skin forms to protect the underlying areas.
It is also believed by some doctors that seed corns are caused by plugged sweat ducts on the bottom of the feet.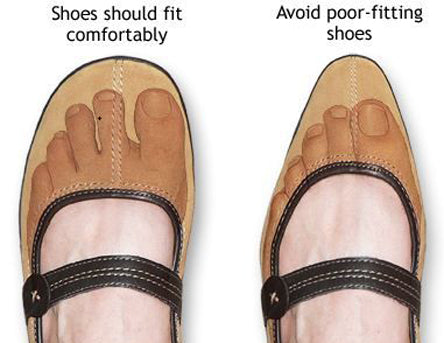 How Can I Treat Corns?
Though the body forms corns as a protective mechanism, the corns themselves often become uncomfortable and painful and will require some form of treatment for removal.
Home treatment of corns is often effective as most corns will gradually go away on their own if you remove the cause of the friction. In order to accomplish this, it is important to have proper shoe and sock fit. It may be necessary to wear shoes with a wider or rounder toe box. To facilitate corn removal, soaking the feet and the gentle use of a pumice stone can help. Your local drug store or shoe store will have over the counter aids for corns such as a toe spacer or a corn donut which can divert pressure points off the corn. These will help protect the affected area from additional friction, thus helping the corn to heal.
There are also topical over the counter creams that can aid in removal. A pressure relief insole may help alleviate tenderness or pain that is caused by seed corns. Keep in mind that even after corns are removed, they will generally return unless the point of friction is removed.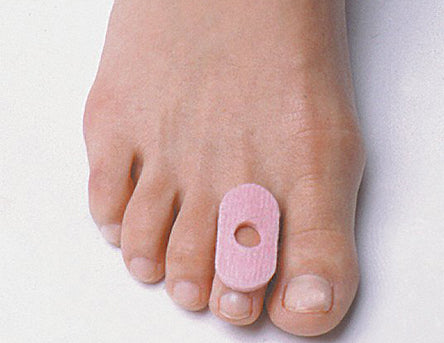 When to See a Doctor
At times home remedies are not successful and different measures need to be taken for corn removal. Never try to cut off a corn because this can lead to further problems such as infection.
In cases in which home remedies and changing footwear are not effective, it is important to see a podiatrist for treatment. If the corn is due to a bony prominence, then it will likely be necessary to see a doctor. X-rays may be needed to determine the cause of the problem.
Occasionally surgery will be needed to remove the bony prominence or straiten the joint causing the pressure.
If you are diabetic and develop a corn it is recommended that you see a doctor for treatment. Home treatment should be avoided in this case because there is higher risk of developing a diabetic ulcer.