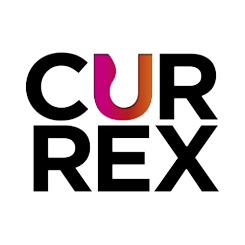 Currex Insoles
Designed by athletes and sports scientists, Currex insoles are the top choice for runners and athletes alike. Currex insoles provide premium support thanks to a deep heel cup, dynamic arch support, and high-rebound cushioning to keep your feet fresh even after a long run. Take your personal performance to the next level with these innovative orthotics by Currex.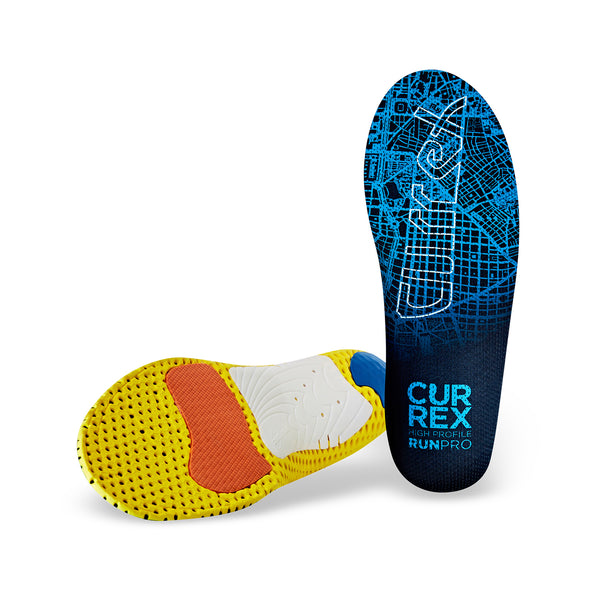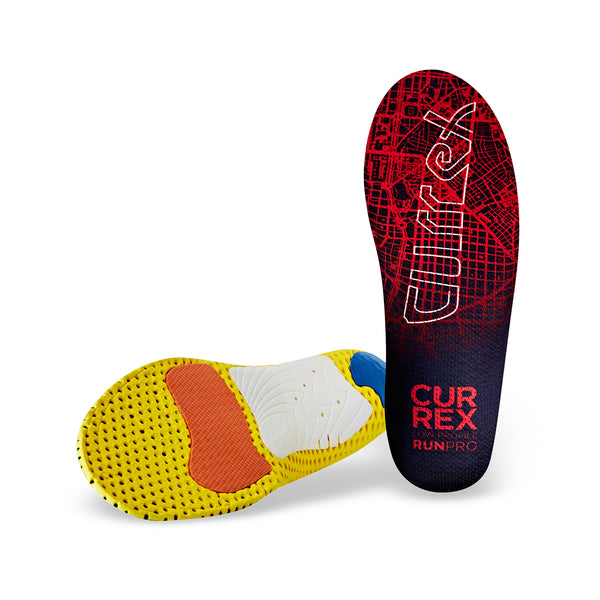 CurrexSole arch supports are a top choice insole for athletes. Currex RunPro insoles are a full length, semi-rigid orthotic arch support uniquely designed to prevent over-stress while running, as well as strengthen your foot muscles and tendons for those with pronation or over-pronating.
Currex insoles were developed by a team of renowned sports scientists and designed for 100% contact with the ground and foot. Take your personal performance to the next level with these innovative arch supports. CurrexSole. Your Life. Your Goal. Your Sole.
THE LATEST RESEARCH AND TECHNOLOGY
Currex uses the latest sports-science research to influence their patented technologies to make an insole that is the perfect symbiosis of science and passion. These insole are based on 360° pro expertise in movement analysis using real-life, real-time data and are small technological powerhouses beneath your feet! When you wear currexSole orthotics, everything fits – naturally. You can take your personal performance to the next level with these innovative arch supports. Looking for the perfect connection between you and your sports shoe? currexSole was Developed by German sports scientists for 100 percent contact. From the moment you fit it in your shoe you will know this insole is perfect for your foot. Join people from all countries to find out what a difference currexSole can make.
A NUMBER ONE CHOICE
Experience four things that make Currex insoles your number one choice: 1. Biomechanical Heel Guide: The Autofit Heel Cup. Research findings have proven that the sheer inflexibility of stiff heel cups hinders perfect performance. That's why Currex offers the Autofit system: Soft, specially designed heel cups which allow movement between the heel and mid foot, yet still ensure firm support. You're wearing the perfect shock absorber!
2. Triple Layer – For Your Foot's Comfort Zone. You can feel it – and it feels really good: Your foot is supported by a total of three layers. Less sweat and odor, improved air circulation – and no chance of blister formation! The top layer is made from supportive microfiber. The mid-layer is Freeflex Memory Foam, which adjusts pleasantly to the foot and is impregnated with high-quality bamboo charcoal. The bottom layer is a unique mix of natural rubber and EVA, giving an active foot the space it needs – when it needs it.
OUTSTANDING DESIGN
3. Soft Energy Storage: 3D DAT (Dynamic Arch Technology). Hard materials in conventional insoles block your movements. However, in currexSoles the arch of the foot is supported by 3D DAT, a dynamic mid-sole bridge made from nylon composite. It supports and guides, and also reduces excessive movements which are often the cause of overload complaints. Mechanical energy is stored like in a spring: The result is the most efficient propulsion you have ever experienced! Three profiles are available: High, Med and Low.
4. Outstanding Cushioning: MC (Metatarsal Cushioning). When things get intense during sports, the ball of the foot needs particular protection. Currex insoles have real cushioning wonders thanks to PORON®, the global leader in performance cushioning.
CURREX. YOUR LIFE. YOUR SOUL.
There you have it. Experience one of Europe's leading insoles for yourself.